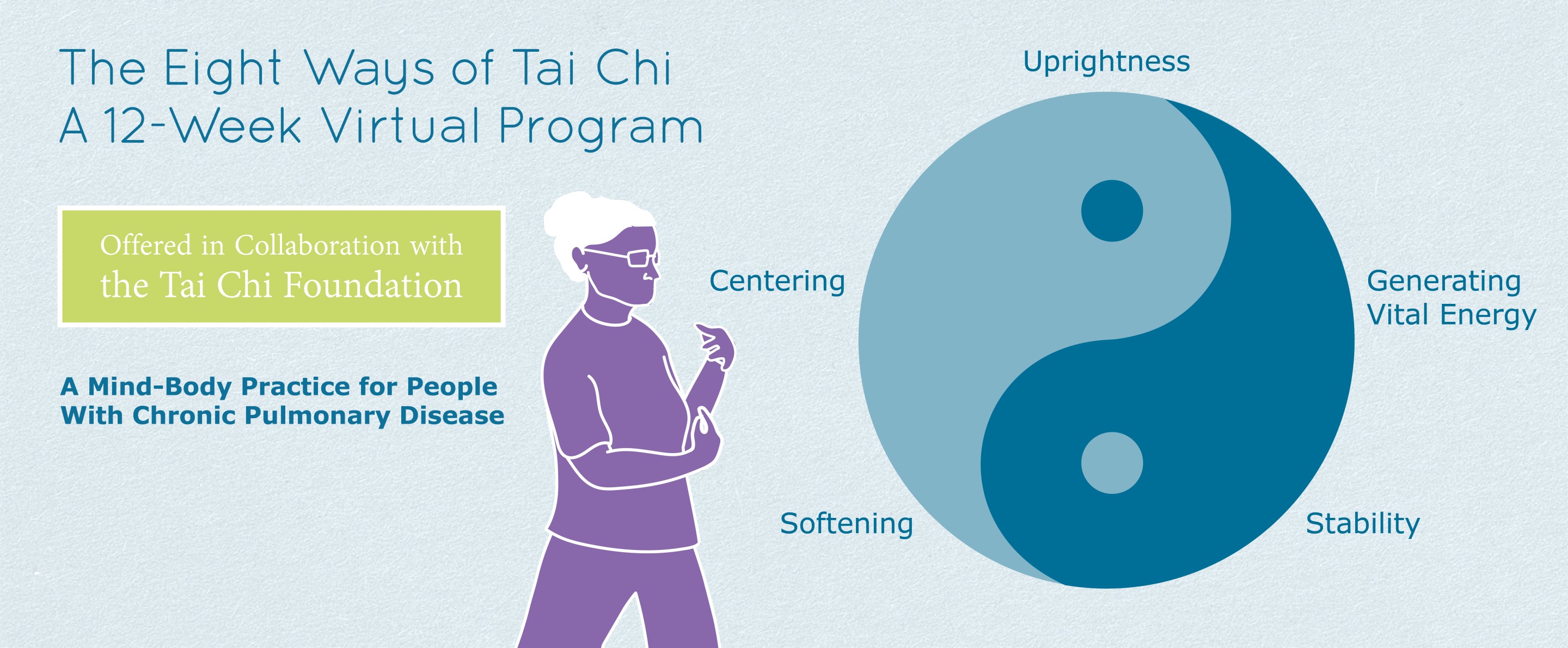 Experiencing the Eight Ways of Tai Chi
Fall/Winter 2022-2023 Class Series
What is Tai Chi?
According to ancient Chinese tradition, the cultivation and circulation of vital life energy is essential to health and well-being. This is the foundation for the practice of Tai Chi. Tai Chi is a form of moving meditation, enabling practitioners to be more efficient and graceful with their movements, to improve balance and increase lower body strength, and to be more present and alert to the surrounding world, while maintaining tranquility.
The Eight Ways of Tai Chi ChuanTM
The 8 Ways are part of the Tai Chi Chuan curriculum developed by Cheng Man-Ch'ing who brought Tai Chi to the West during the 1960s. He was committed to making Tai Chi accessible to everyone. From his Tai Chi short form he distilled the 8 Ways to help us embody the principles of Tai Chi, to move our bodies in optimal ways, to focus our awareness, and to generate vital energy.
Major principles established in our bodies through practice of the 8 Ways include the following:
Centering. Bringing your awareness to your center. In Tai Chi practice, the center is in your lower abdomen, and called the tan tian. It is not an anatomical position, but is the center of movement and awareness. As we release our focus from our minds and hearts to come down into our body's center, we become more centered and aware.
Generating and circulating vital energy. Tai Chi recognizes that vital energy is all around us and within us. Through our practices, we become aware of the generation and circulation of vital energy and of our relatedness to the world around us.
Softening. Through Tai Chi practice our muscles, thoughts and emotions soften so that we can release whatever we might be holding tight.
Stability. By connecting with the earth through our feet we become stable, balanced and grounded. Noticing our weight and how we shift weight from one foot to the other improves balance and builds strength in our legs.
Uprightness. While grounded we are also attracted towards the heavens. Our body is upright, our eyes are on the horizon and there we are, at ease, between the heavens and the earth.
The Tai Chi Foundation
The mission of the Tai Chi Foundation, home of the 8 Ways, is to study and teach Tai Chi to increase health and consciousness and to cultivate "strength through softness" in an atmosphere of support, compassion and wisdom. The Tai Chi Foundation (TCF) is a not-for-profit educational organization, promoting, funding and teaching programs that enable people to learn Tai Chi and embody its principles. Schools of Tai Chi comprise a network of schools within TCF, and continue the teachings of the Cheng Man-Ch'ing style of Tai Chi. Today TCF guides over 250 instructors ("apprentices") teaching Tai Chi classes in 30-plus cities around the world. For further information, see www.taichifoundation.org.
The Instructors
Joan Campbell, Ed.S. is a retired professor of Early Childhood Education, after 25 years. She has been practicing Tai Chi for over 45 years and has been teaching it since 1986. Joan says, "Tai Chi has had a tremendous impact on my health and emotional well-being. I always feel better after a Tai Chi class. My personal practice has benefited me in countless ways and I can't imagine life without it." Joan is a certified member and leader of the Tai Chi Foundation.
Jesse Leinfelder, Ed.D. is an early childhood and family support specialist providing consultation for agencies working to raise the quality and sensitivity of services. She began learning and teaching Tai Chi in the early 80's and deeply appreciates having a variety of Tai Chi opportunities in her life. Various life challenges have proven to her again and again that Tai Chi can improve health and increase positive awareness of the world. She is an active member of the Tai Chi Foundation.
Classes
ILD Collaborative-sponsored 8 Ways of Tai Chi classes are offered to people interested in focusing awareness, generating vital energy, softening and releasing tension, becoming more stable and balanced, and gaining strength. The instructors are sensitive to demands lung disease places on the body and adapt class sessions to the particular needs of their students.
Research
Our current research is to understand the reciprocal and collaborative interactions between our Tai Chi teachers and members of the ILD Collaborative Community to modify the 8 Ways classes to be more accessible to persons with chronic pulmonary conditions and diseases. Teachers and students are committed to the five principles described above—centering, generating and circulating vital energy, softening, stability, and uprightness—while accommodating the varied issues facing the students with chronic pulmonary disease. Currently, we are conducting focus groups and interviews with students and teachers; video-recording our classes; and analyzing our information to identify key themes enabling students with ILD and COPD to fully participate and access the potential benefits of Tai Chi through the 8 Ways. We intend to continue our studies in the coming year, with additional students, to better understand the 8 Ways of Tai Chi and adaptations and benefits for people living with ILD or COPD.
® The name Tai Chi Foundation, and School of Tai Chi Chuan are registered Trademarks (TM) of Tai Chi Foundation, Inc.