Tai Chi for Interstitial Lung Disease

A Pilot Evaluation of Tai Chi Practice for People With Interstitial Lung Disease
What is Tai Chi?
Tai Chi is a rich and evolving mind-body practice that integrates physical, cognitive and ritualistic components. Each component has potentially independent and synergetic therapeutic value, particularly for chronic or complex diseases involving many systems throughout the body. The practice involves slow intentional movements, often coordinated with breathing and imagery, which aim to strengthen and relax the body and mind, improve health, and support personal development.
Clinical and Research Basis for the Tai Chi Protocol Intervention
The 12-week virtual Tai Chi pilot program is based on an adaptable Tai Chi protocol developed by Dr. Peter Wayne, director of the Osher Center for Integrative Medicine at Harvard Medical School and Brigham and Women's Hospital. Dr. Wayne is also the founder and director of the Tree of Life Tai Chi Center in Boston, and is an internationally renowned teacher of Tai Chi and other Eastern practices with over 40 years of training experience. Dr. Wayne's research has evaluated the impact of therapies such as Tai Chi, Qigong and acupuncture on diverse medical issues including balance disorders, back pain, cancer, chronic obstructive pulmonary disease, asthma, cardiovascular disease, Parkinson's disease, and healthy aging. He has served as a principal or co-investigator on numerous National Institute of Health (NIH)-funded studies, and is the author of the Harvard Medical School Guide to Tai Chi.
In this pilot program for participants with interstitial lung disease (ILD), Dr. Wayne's Tai Chi protocol will be adapted by the program instructor to the participants' physical abilities and constraints. Developed within Dr. Wayne's conceptual framework of the Eight Active Ingredients of Tai Chi, this protocol of easy to learn Tai Chi movements and warm-up exercises emphasizes experiencing the therapeutic ingredients of Tai Chi, and helps participants understand how the practice impacts their mental and physical well-being.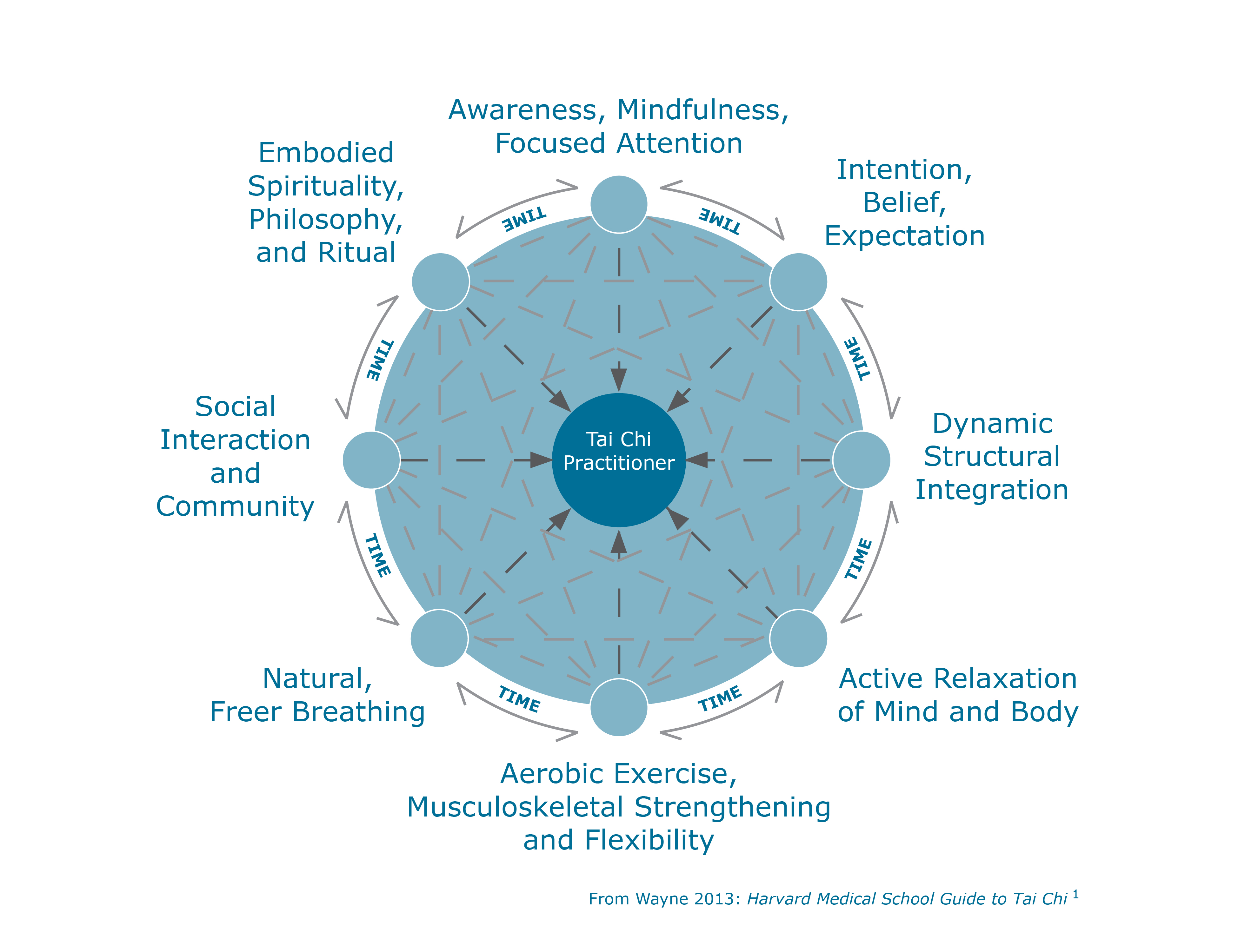 Eligibility for Participation and Study Outcome Measures
The pilot study will be open to participants in the Virtual Community Meetings who have an ILD. The study will evaluate the experience and effects of Tai Chi in this population of people with ILD using qualitative and quantitative research methods. Semi-structured interviews will be conducted with participants before, during and after the 12-week adapted Tai Chi protocol intervention. Self-reported quantitative assessments will be collected from participants prior to the start of the study and in conclusion of it. The study received ethical approval from the institutional review board (IRB) at the University of Florida. Prior informed research consent will be obtained from all participants.
The Program Instructor
The program will be taught by Regina Gibbons, MBA, MAc. Ms. Gibbons is a licensed acupuncturist and a 2008 graduate of the Tree of Life Teacher Training program as well as a Certified Eight Active Ingredients Tai Chi Instructor. She began studying and practicing Tai Chi and Qigong in 1997 while earning her Master of Acupuncture from the New England School of Acupuncture. Her formal education in traditional East Asian medicine, along with her extensive work in multiple Boston-area hospitals, allows her to translate the ancient principles of Tai Chi and Qigong into a language that makes it easily accessible to practitioners and the Western medical community. Ms. Gibbons has served and continues to serve as Senior Tai Chi Instructor in a number of Harvard Medical School-based NIH-funded trials evaluating Tai Chi for chronic diseases, as well as for its effects on frailty in elderly adults. For over a decade she has taught community-based classes to the general public and at Councils on Aging, all with an emphasis on the evidence-informed health benefits of these practices. Until her recent retirement as a clinical acupuncturist with the Integrative Therapies Program at Massachusetts General Hospital's Cancer Center, she led weekly Tai Chi and Qigong classes for that patient population and monthly Tai Chi classes for a diverse group of people. Ms. Gibbons continues to maintain a private Integrative Therapies practice near Boston.
The Research Team
Aliaa Barakat, PhD (ILD Collaborative), Karen Kilgore, PhD (University of Florida), and Pam Goddard (ILD Collaborative).
The study outcome measures prioritize concerns and questions experienced and raised by members of the ILD Collaborative community of patients and caregivers.
Resources and References
Wayne, PM, Fuerst, ML. The Harvard Medical School Guide to Tai Chi. Harvard Health Publications. 2013

National Institute of Health Record: Evidence Grows of Tai Chi's Benefits, Including for Seniors. November 4, 2016.
National Center for Complementary and Integrative Health Webinar: Mind-Body-Movement Interventions: Overview of the State of the Science. Peter Wayne, PhD. Presented September 30, 2020 (begins at minute 22:30).
National Cancer Institute Complementary and Integrative Medicine Course on Tai Chi and Acupuncture: Tai Chi and Qigong Mind-Body Exercise for Cancer Survivors. Peter Wayne, PhD. Presented October 15, 2020 (begins at minute 8:20).
ILD Collaborative Virtual Community Meetings: The Health Benefits of Tai Chi. Regina Gibbons, MBA, MAc. Presented Sepetember 16, 2020.
ILD Collaborative Virtual Community Meetings: Research Designs, Placebo Effects, and Multicomponent Interventions. Aliaa Barakat, PhD. Presented November 3, 2020.